Halle (Saale)
Residence of Luther's Adversary
One of Martin Luther's most powerful adversaries lived here: Cardinal Albrecht, Archbishop of Magdeburg.
One of Martin Luther's most powerful adversaries lived in Halle (Saale): Cardinal Albert, Archbishop of Magdeburg and Mainz. Cardinal Albert was the highest ecclesiastical dignitary, second in the 'Holy Roman Empire of the German Nation' only to the Pope himself. The Cardinal's extravagant lifestyle, financed largely via the sale of indulgences, provoked Luther to send a letter with his famous ninety-five theses. The resulting conflict shook the Catholic Church to its very foundation. The pressures of the Reformation movement caused Cardinal Albert to leave his bishop's residence, Moritzburg Castle, in 1541.
Moritzburg Foundation Halle (Saale) - Art Museum of the State of Saxony-Anhalt ©Falk Wenzel/ Tourismusregion Anhalt-Dessau-Wittenberg e.V.
After Martin Luther died in Eisleben in 1546, his body was laid out in Halle for a night on its way to being transported to Wittenberg. Even after Luther's death, Halle remained an important place for Protestantism. The minister and university professor, August Hermann Francke, founded a school town in 1698, a campus known today as the Francke Foundations, from which the spirit of the Reformation went out to the world. The unique architectural ensemble still exists to this day and houses about 50 institutions, all of which are closely associated with Francke's ideas and work.
Halle (Saale) has lots of treats in store
When you hear the "Halle-Luhja" Chorus played on Europe's largest carillon, you know you have arrived in the 1,200 year-old birthplace of George Frideric Handel. It is a magnet for visitors thanks to its historical Old Town that remains largely intact, restored town houses, some of the finest museums in Europe, and the Nebra Sky Disc, a UNESCO World Heritage artefact that is more than 3,600 years old. What's more, the city also has parks, pub districts, a thriving arts and theater scene, and renowned culinary specialties.
The Market Church Of Our Lady "Unser lieben Frauen" in Halle is richly endowed with evidence and treasures originating from the Reformation. It is possible to view Martin Luther's original death mask and a Renaissance pulpit from which it is claimed Luther preached.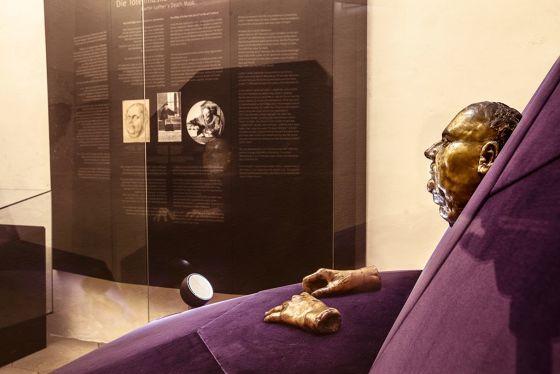 Luther's death mask and a cast of his hands in the Marktkirche in Halle ©Harald Krieg/ IMG Sachsen-Anhalt
The Marienbibliothek is one of the oldest and largest Protestant ecclesiastical libraries in Germany with a collection of 30,000 volumes including numerous Luther Bibles containing the Reformer's handwritten notes.
Bible from 1541 with a handwritten dedication by Luther from the holdings of the Halle Marian Library ©Klaus-Peter Voigt/ IMG Sachsen-Anhalt
Moritzburg Castle is now one of Saxony-Anhalt's state museums housing significant collections of paintings, drawings, sculptures, photographs, handicrafts, design objects, coins and medals. A number of rooms have wooden panels, tiled stoves, rugs, murals and paintings dating from the time or Cardinal Albert.
Halle Cathedral which was decorated by painters such as Lucas Cranach, Albrecht Dürer and Matthias Grünewald among others is where Albrecht of Brandenburg kept his famous collection of 20,000 relics – pulpits, apostle figures and choir stalls still bear witness to this history.
---
Header picture: ©Thomas Ziegler/Stadt Halle (Saale)